Announcements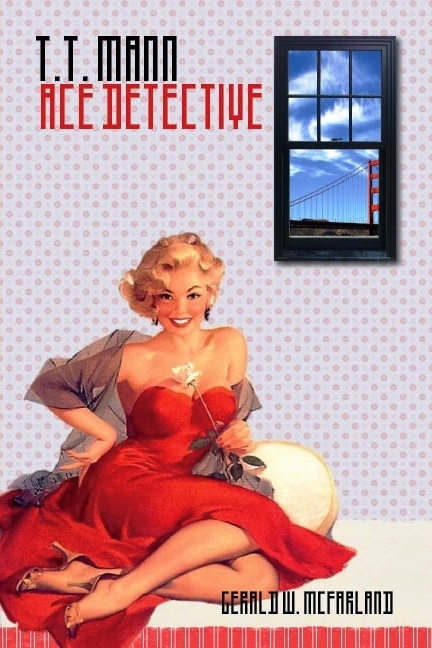 Six feet tall and weighing twenty-two pounds, T.T. Mann is the perfect protagonist for this light-hearted take on the detective genre. With help from his girlfriend Rosie and his brother Flat Mann, T.T. deals entertainingly with dangerous and daunting cases that arise in San Francisco ca. 1955.
Published by Levellers Press, Amherst, MA (239 pgs.) ISBN 9789-1-945478. Price $17.59. Order online:
www.levellerspress.com OR by phone: 413-256-6425.
An ebook edition (the cover of which is shown here) is available from all the usual sources.
Latest Amazon Review of THE BRUJO'S WAY. "This was a unique reading experience that I highly recommend. Armchair adventurers will delight in Don Carlos's exploits, and serious historians will be amazed at McFarland's ability to weave history into fiction. I think of myself as not being a fan of magical realism, yet THE BRUJO'S WAY, full of magic, full of realism, puts a new spin on this genre. In this sense, the novel is fabulously 'fabulist,' and I love the way the author blends allegory and history to create his protagonist's world. The historian in McFarland is evident and impressive, yet it is the storyteller in him--and Don Carlos's journey to self-hood--that we fall in love with."
BIG NEWS! "The Last of Our Kind, Third in the Buenaventura Series," has been named as a Finalist in the 2016 New Mexico-Arizona Book Award competition in the Fiction-Adventure category.

AND MORE BIG NEWS: "The Last of Our Kind, Third in the Buenaventura Series," has been selected by Chanticleer Reviews as a Finalist for a 2016 Chaucer Award, Best Historical Novel in the pre-1750 Americas category.
About THE "COUNTERFEIT" MAN. See my November 16, 2016 blog posting my reflections regarding the Boorn-Colvin case on the twenty-fifth anniversary of the book's publication.
MONTEZUMA'S EMERALD, a forty-two-page short story from Don Carlos's third life, may be read for FREE by visiting its page under "works" and clicking on the appropriate link.


My schedule is always in flux. Please contact me -- geraldm3@verizon.net -- if you want to propose events.